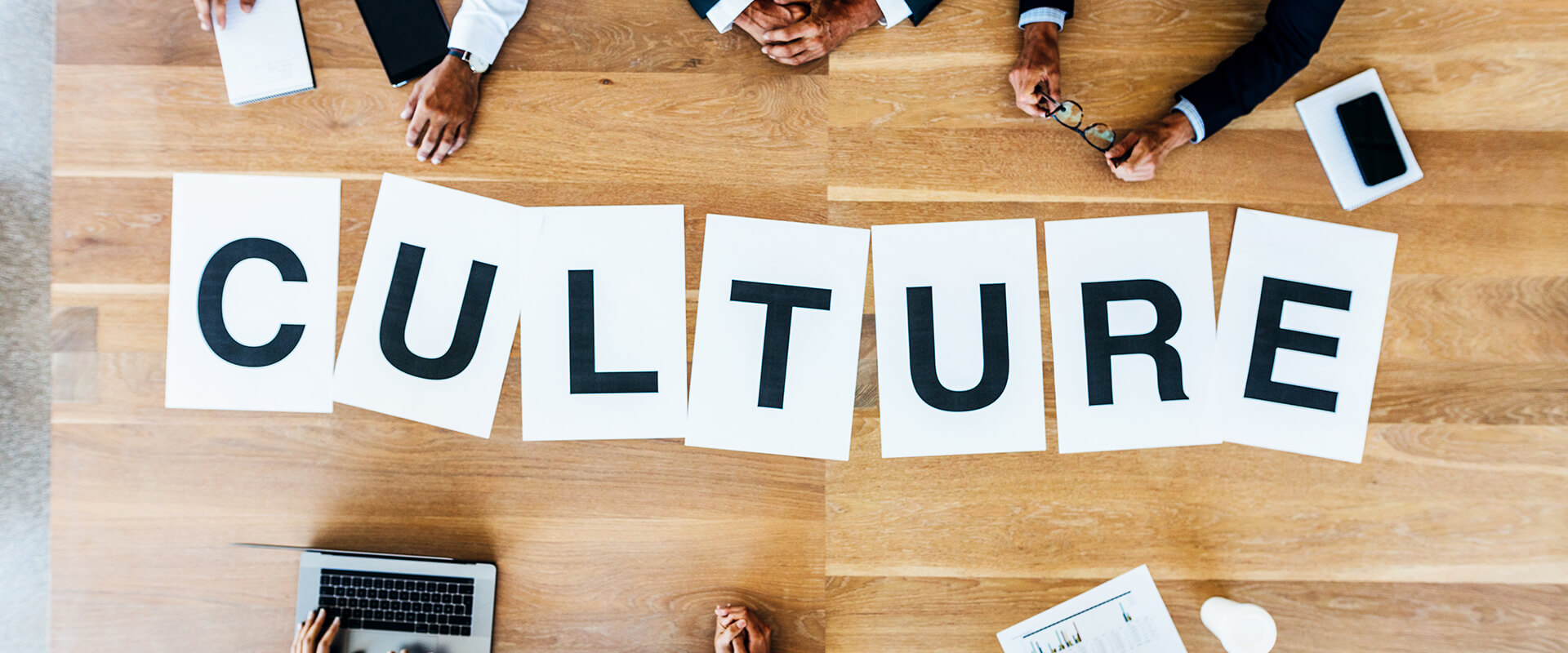 Company culture is defined as the character, personality and values of your business, it's what makes your organisation unique and hopefully a great place to work. The culture of your company, positive or negative, can directly impact morale, recruitment, productivity and employee retainment.
According to research by Deloitte, 94% of executives and 88% of employees believe a distinct workplace culture is important to business success. The survey also found a strong correlation between employees who claim to feel happy and valued at work and those who say their company has a clearly articulated culture.
between employees who claim to feel happy and valued at work and those who say their company has a clearly articulated culture.
Running a business can take up most of your time and you may think cultivating a positive company culture is the least of your priorities, but you could find it invaluable to your business.
Here are some simple ways you as an employer can build and improve your company culture.
Invest in training and development
2 out of 3 UK workers have changed jobs because of a lack of training and development. People like to envisage a bright future with their company, and if they can't see any clear progression, they may begin to look elsewhere.
Investing in training and development opportunities for your employees sends out a clear message that you are dedicated to their personal advancement and makes them feel valued.
This motivation can directly affect employee productivity and ultimately your bottom line.
Look after employee health and wellbeing
Employee wellbeing is becoming a growing focus for many modern businesses. Happy and healthy employees are good for business; they are less likely to take time off work for illness and more likely to display increased productivity. There are some simple ways you can cultivate a healthy workplace environment for your employees.
Promoting healthy eating by providing nutritious snacks such as fresh fruit could help staff to feel better about themselves both physically and mentally and lead to improved productivity in the workplace.
Encouraging exercise in the work place could also be a shrewd move for your business, as physically active employees take 27% less sick days than non-active employees. The sedentary nature of a typical desk job sees many people sitting for hours on end. This can be detrimental to both mental and physical health, causing increased absenteeism. A lunchtime walking or running club could encourage your team to get out in the fresh air and return to work feeling energised.
As well as physical health, it's important to look after the mental health of your employees as mental health charity, Mind discovered that work is the most stressful factor in people's lives.
Develop relationships between employees
It may be tempting for some people to close themselves off from others and get stuck into their work, but this can leave them disconnected from their fellow colleagues. After all, humans are social creatures who crave connection with others.
Encourage collaboration between employees by providing chill-out zones and encourage employees to take regular breaks to chat to their colleagues. Employees with positive relationships are more dedicated and motivated to perform their best.
Team bonding activities can help to bring people together whilst boosting performance and morale. Traditional team building activities can often be stifling and awkward (think building a raft out of water bottles), but there are more exciting things you can do as team.
Stepping away from the stress of the workday by doing outdoor activities such as sporting challenges or just arranging a staff night out can be a good way to get to know colleagues in a fun, uninhibited environment.
Encourage work life balance
Employees who feel they have a balance between their work and personal lives are motivated, more productive and are less likely to experience burnout or stress at work.
Flexible working hours and remote working could help your staff achieve a positive work-life balance by allowing them to fit work around family life, avoid the rush-hour commute and fit in personal errands and appointments. You may even find your employees are more productive as a result.
According to a study undertaken by HSBC, 9 in 10 employees consider flexible working to be a key motivator to their productivity at work, with flexible working more important to employees than financial incentives.
If flexible working is not feasible at your organisation you can still improve the work-life balance of your employees by offering early leave for family commitments or encouraging workers to make use of their full holiday entitlement.
Create a fun office environment
Many of us spend a significant amount of our lives at work, so it makes sense to provide a positive and fun working environment for them. Encourage your staff to put their own stamp on their workspaces, perhaps with family photos or other decorative items, to give a homelier and more relaxed feel to the office.
If your budget allows, having a games area in the office can really boost morale amongst employees. Allowing staff to get away from their desk to challenge a colleague to a quick game of pool or table tennis is a great way to form social bonds between employees and could even have a positive effect on their work.
Recognise and reward
When considering what factors impact workplace culture, Deloitte discovered that 49% of employees rate recognition as the most important.
People want to feel valued. They want to hear that they are doing well and that their contribution is appreciated. A simple 'thank you' can go a long way and will not only make your employees feel good, but may also benefit your business by improving morale, productivity and engagement.
Congratulating your employees for completing that challenging project or coming up with a great idea for that business strategy can create a happy working environment that people want to be a part of.
Provide a competitive benefits package
Providing a good benefits package that motivates employees whilst being cost effective to the business can be way of promoting your corporate culture.
Death in service insurance could offer several benefits to both employers and employees. Also known as 'group life insurance', death in service insurance is intended to pay out a lump sum to employee's loved ones in the unfortunate event of their passing.
A death in service insurance policy covers employees at no cost to them and may offer peace of mind by ensuring their loved ones will receive financial help in the event of their death. It is a low-cost way of providing a highly desirable benefit for your employees, which shows you care about your staff and their loved ones.
You may wish to consider death in service insurance to help protect your employees and ensure their loved ones receive a financial lump sum should the worst happen.
We provide the means for you to compare death in service insurance quotes from leading providers, quickly and efficiently.