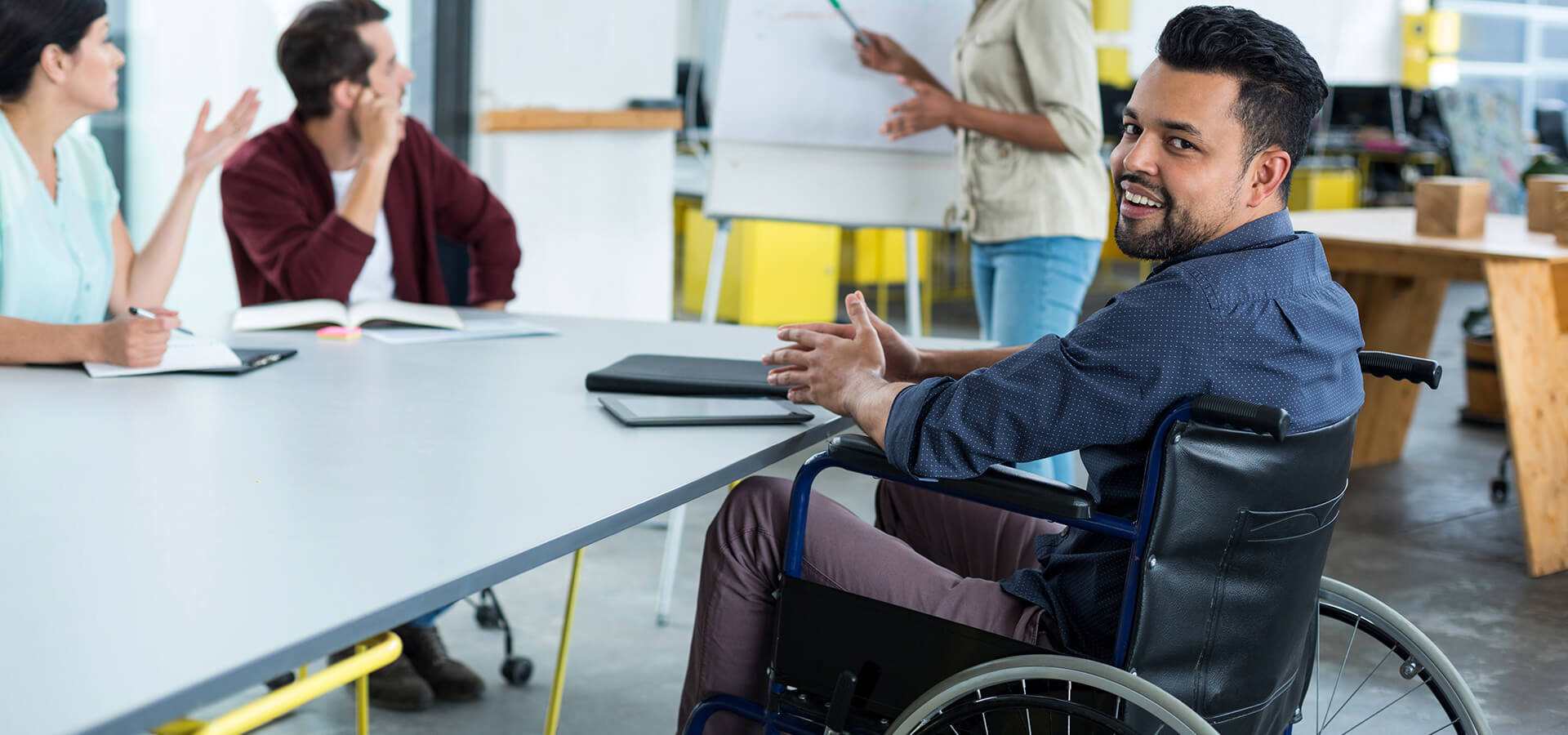 Nearly 7 million people of working age in the UK are classed as disabled or have a health condition. Although disabled individuals often have a lot to offer employers, they can face discrimination in the job market, with only 40% of disabled people currently in full-time employment, compared to 80% of the able-bodied population. As an ageing workforce becomes a reality for many organisations, more and more employees will develop health conditions and disabilities, so it is important that business owners and managers are clued up on how to support these individuals.
It is crucially important as an employer to take progressive steps to boost diversity in the workplace. There are many benefits to hiring disabled employees and you could gain access to talent that others may have overlooked.
Here are some ways you can support disabled staff and ensure they remain happy and productive members of your team.
Adopt an inclusive and accessible recruitment process
As well as supporting any existing disabled employees, it is equally important to ensure that your recruitment processes are inclusive and provide equal opportunities for all candidates. This could be achieved by providing a job advertisement in a different format if a disabled job applicant requires it, such as Braille for a visually impaired individual. It is also good practice to ask any shortlisted applicants if they require any adjustments to be made for them to attend an interview. This provides an ideal opportunity for a prospective employee to disclose any conditions they may have and sends a clear message that individuals with disabilities are actively being encouraged to become members of the company's workforce.
Be flexible
Flexible working hours may be hugely beneficial for staff with health conditions and is a low cost and straight forward way of helping them to carry out their duties as easily as possible. Flexible or reduced working hours could provide a disabled employee with some leniency when it comes to taking time off for medical appointments, or taking some time to rest and recuperate. As well as benefiting staff with disabilities, flexible working hours may also prove to be a valuable lifeline for staff with disabled children or other caring commitments. If a disability makes it difficult for your employee to come into to work, telecommuting or working from home may also be beneficial.
Make reasonable adjustments
Not everyone with a disability will need extra support in the workplace, and many of those who do will only require small changes, known as reasonable adjustments. As an employer, you have a legal obligation to make these adjustments to ensure that disabled staff can perform their duties as well as their able-bodied colleagues. These alterations may include specially adapted equipment, such as a computer, keyboard, telephone, chair or desk. You may be able to claim back expenses for such support or modifications via the government's access to work scheme. If you do not make or consider making reasonable adjustments for a disabled staff member, you could be guilty of discrimination under the Equality Act 2010 and could be taken to an employment tribunal, and your organisation may be liable to pay damages.
Talk to your employee
There is no 'one size fits all' approach when it comes to disabilities and mental health issues, and your employee is the expert on their own condition and how this may affect them in the workplace. The support your employee will need will depend on how their condition affects them, the job they do and their own abilities and coping strategies. Establishing an ongoing conversation is the best way for both you and your employee to express any concerns, determine what they need from you and how you can help make their working lives a little easier.
Build awareness and invest in training
One of the most impactful things you can do as an employer is promote disability inclusion in the workplace. Offer disability awareness training for your staff to help them understand and support their disabled colleagues and dispel any myths or stigma surrounding disability. This can create an open and accepting environment which will benefit the whole workforce. It is also important to provide training for line managers as they need to know their legal responsibilities if they are to stay compliant to the Disability Discrimination Act (DDA).