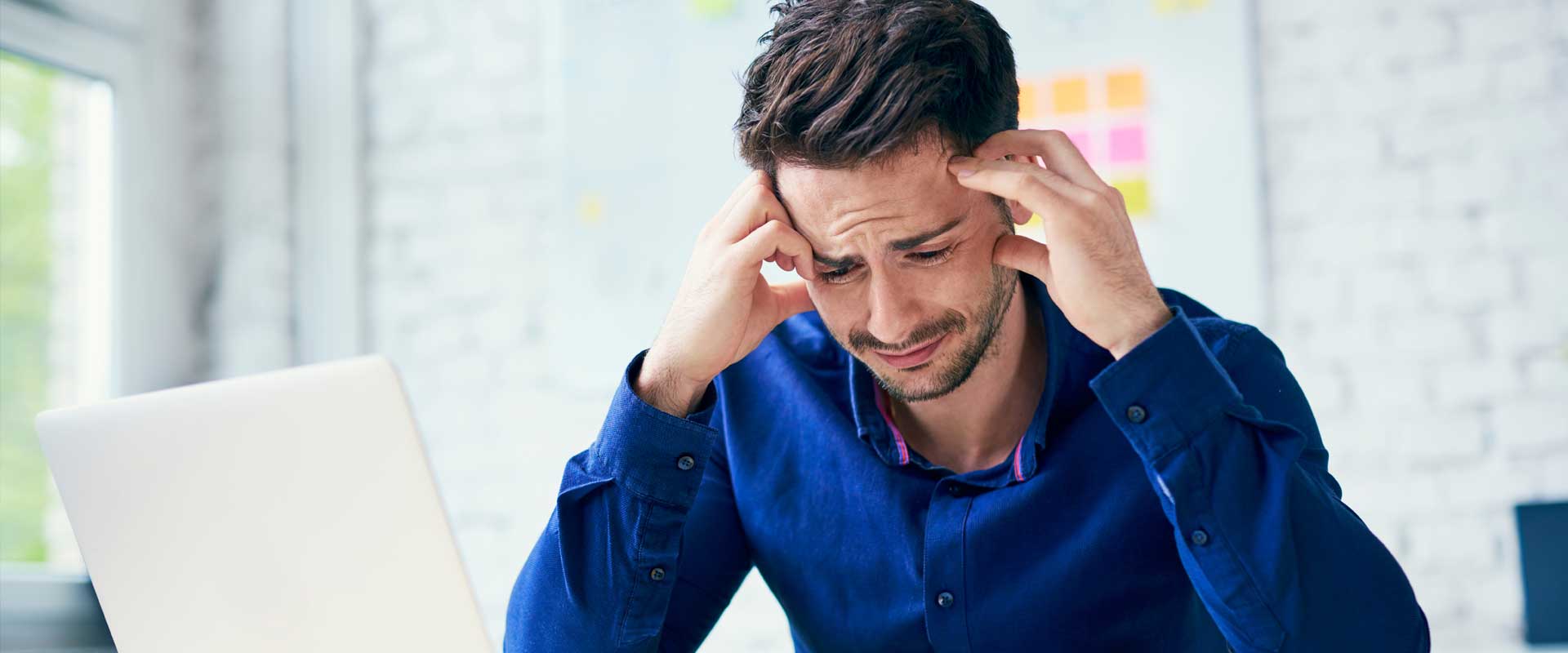 The subject of male mental health has been a hot topic in the media lately. With men's wellbeing initiatives such as Movember and National Men's Day highlighting the need for male mental health awareness and possible solutions that work for men.
A recent survey conducted by Mind* found that men are more likely to experience work related mental health problems. The study concluded that 1 in 3 men attribute poor mental health to their job, compared to 1 in 7 men who say it's problems outside of work. Women, on the other hand, say that their job and problems outside of work are equal contributing factors to their mental health problems.
Faced with such statistics, is a gendered approach to mental health the way forward to preventing mental health problems in the workplace?
What is a mental health problem?
In many ways, mental health is just like physical health. Everyone has it and sometimes it can fluctuate. Mental health problems range from everyday worries and anxieties to serious long-term conditions that can affect mood, thinking and behaviour. Examples of mental health problems include depression, anxiety, schizophrenia, eating disorders and addictive behaviours.
What causes poor mental health in the workplace?
From a business perspective, poor mental health can lead to staff absence, loss of productivity and disengagement, so it makes sense to promote mental wellbeing in your employees and support those who may be suffering. But first, it is useful to consider the factors that may contribute to mental health problems at work to implement effective support structures.
Some factors that contribute poor mental health in the workplace include:
• Allowing time off to go to medical appointments or for rehabilitation

• Work overload or pressure

• Lack of control and participation in decision-making

• Unclear job role

• Unfulfilling tasks

• Job insecurity

• Long working hours

• Bullying

• Poor communication

• Inadequate resources
Why are men more likely to suffer work-related mental health issues?
Mind found that 1 in 3 men cited work as a reason for their poor mental health compared to just 1 in 5 women, so why are men more likely to suffer with poor mental health at work?
The research suggests that although men are more likely to have mental health problems triggered by their job, women are more likely to seek support from their employer. Men may be reluctant to ask for help from their manager due to a negative company culture. Mind concluded that only 1 in 3 men believe the culture in their organisation allows them to speak openly about their mental health.
Men may feel unable to seek help due to the industry they work in. Male-dominated industries where 'macho' culture prevails or a where a competitive environment may exist, could be preventing men from being open about their feelings. For example, construction industry workers are at higher risk of suicide than many other occupational groups. This may be partly explained by the prejudice associated with mental health conditions and a workplace culture that discourages speaking out.
Spotting the signs of a mental health problem
Everyone's experience of mental health is different and understanding the signs of poor mental health does not mean you should make assumptions about the state of your employee's wellbeing. Instead, be mindful of any early warning signs so you can check in on your employees if you spot any.
Some early signs may be:
• Low engagement and poor productivity
• Increased absenteeism
• Mood swings and irritability
• Being easily distracted
• Low mood
• Poor concentration
• Tearfulness
• Avoiding social activities
• Tiredness and lack of energy
• Increased nervousness
How can companies help their employers struggling with their mental health?
Every employer needs happy and productive staff, so prioritising the mental health of your staff is paramount. If you spot any of early warning signs of a mental health problem, it's important to act quickly and implement some support structures, but what does this support look like?
Raise awareness
The first step an organisation should take to reduce the stigma surrounding mental health is to help staff understand what mental health problems entail and how they can spot the signs of poor mental health in their colleagues.
Integrate mental health awareness into your staff training and development. Training could take the form of e-learning courses, monthly meetings, or workshops conducted by an external training provider.
Make reasonable adjustments
Employees with mental health problems are protected under employment law. Reasonable adjustments should be made to help the working lives of your employees. These can include alterations to working hours, remote working, support with workload or time off for counselling.
Create a positive company culture
While 38% of women surveyed felt the culture in their organisation made it possible to speak openly about their mental health problems, only 31% of men said the same. Creating an open and positive company culture can increase morale and give people a sense of security and belonging.
For some simple ways you can build and improve your company culture, read here
Encourage staff to talk
Mind found that 3 in 5 women feel their manager regularly checks in on how they are feeling, only half of men feel the same. It's no secret that stigma still exists regarding mental health and opening the lines of communication surrounding mental health can help to reduce this stigma and support men to feel confident discussing their problems. Conduct regular 1:1 meetings with your employees, ask them how they are managing their workloads and if there is anything they want to chat about. A private and informal discussion could be just what they need to feel they can talk in confidence.
Promote work-life balance
Employees may overwork themselves as they believe it makes them look better in the eyes of their employers, but this can cause stress, anxiety and eventual burnout. When your employees have a healthy work-life balance and a positive working environment, they can be calmer, happier and more motivated. So, encourage your staff to take breaks away from their desks, use their full holiday allowance and finish work on time.
Futureproofing your business
It's important to act on poor mental health in the workplace now. The World Health Organisation predicts that depression will be the world's most common illness by 2030. Employers must tackle the topic of mental health without delay to prevent mental health issues occurring and provide effective support when they do arise. A happier, healthier and more productive workforce can be the reward for getting it right.
* Mind surveyed 15,000 employees, of which 3,003 were male line managers and 2,204 were female line managers