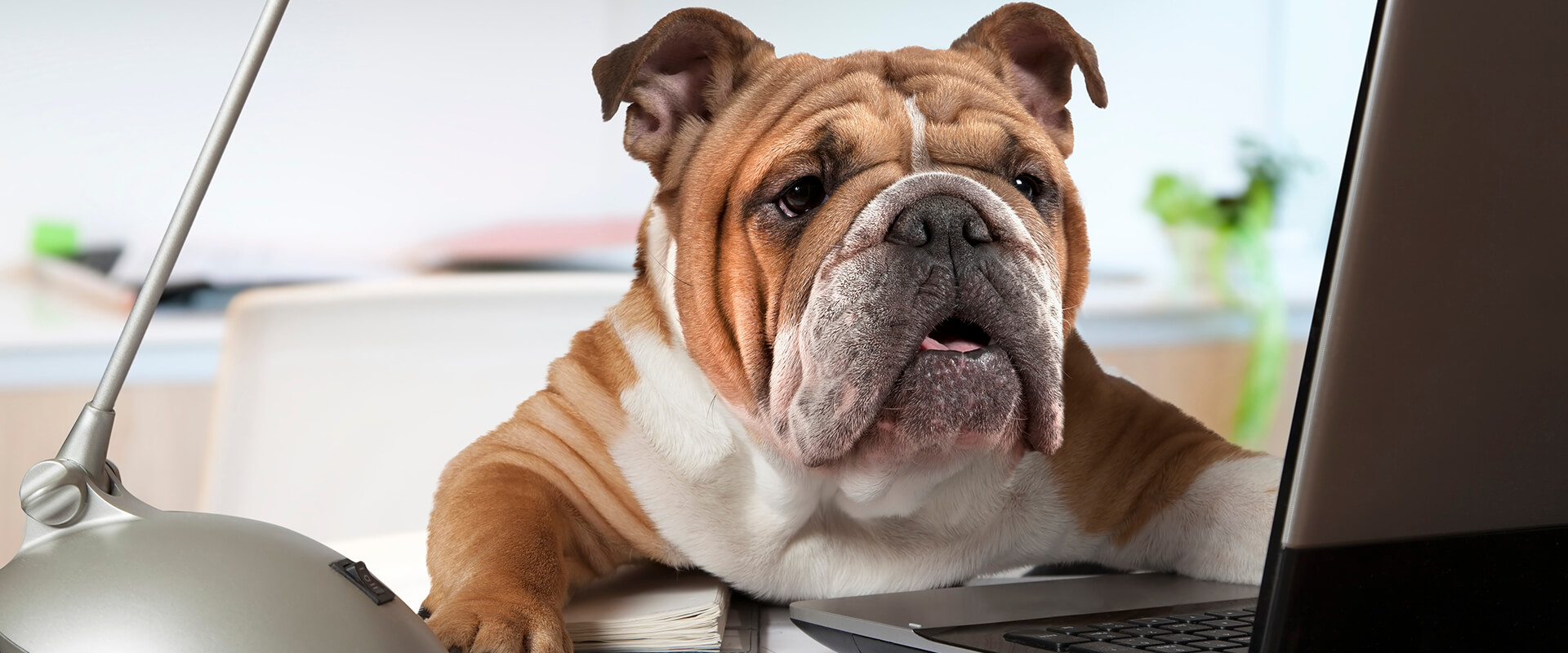 Struggling to keep the productivity levels of your business up? Maybe you should consider getting an office dog!
Let's face it, dogs make people smile. They radiate positive energy, bring people together, and generally make everyone happier, and as the University of Oxford found, happy employees are more productive.
Thanks to charity campaigns such as 'Bring Your Dog to Work Day', more and more employers are allowing their employees to bring their canine companions to work with them.
It may sound barking mad but bringing man's best friend into the office can have real benefits for both employers and employees. Here are some such benefits to name a few.
Retain your pack
Employee turnover can be costly, and employers are often looking for ways to retain their valued staff. With 26% of adults in the UK owning a dog and 10% of those paying for a dog walker to take their pet out for exercise, a dog-friendly office could be a great perk to save staff money and keep them loyal to your business.
Attract top dogs
42% of millennials say they'd enjoy having a canine companion in the workplace. A pup friendly policy could really make you stand out from your competitors as a fun and progressive place to work, attracting all the top dogs.
Canines as connectors
There's nothing like a cute canine to break the ice and get people talking. Dogs can promote social interaction and cooperation within teams. In fact, 24% of companies who allow dogs in the workplace say that it improves relationships between employees.
Dogs reduce stress
A cheerful dog can be just the tonic during a 'ruff' day at the office. Dogs are naturally optimistic and never fail to put a smile on the face of even the most cynical of people.
The idea that dogs can help us to feel less anxious has even been backed up by a scientific study that concluded dogs can reduce blood pressure and reactivity to stress.
So forget plants, fruit bowls and meditation for employee wellbeing. A dog friendly office may just be what's needed to help employees feel more relaxed at work.
Dogs encourage exercise
We all know it's a good idea to squeeze some exercise into the working day, but how many of us actually manage this? Dogs need to be walked, so they leave us with little excuse not to get moving.
A study by Urban Mind found that the positive effects of exposure to nature on our mental health can last for up to seven hours after the experience. So, a brisk walk around the block with a four-legged friend during the working day could have us returning to our desks reinvigorated and ready to tackle that big project.
Happier hounds
Dogs don't like to be left on their own for long periods of time, but often our work schedules leave us with little choice but to leave Rover to entertain himself for eight hours of the day. Bringing your dog to work can reduce separation anxiety in your pooch while making you feel happier and relaxed at work. It's a win-win!
Why not give it a go?
If you're keen to see dogs in your workplace you could get your business involved in Purina's Pets at Work scheme or sign up for this years' Bring Your Dog to Work Day.
Not sure your office is ready to embrace a furry member of staff? We've got a number of blogs with alternative tips for improving employee productivity, reducing workplace stress, promoting a positive company culture and ideas for other workplace wellness initiatives you might want to consider implementing.