Some awesome animals go beyond simply looking cute and earn their crust with some pretty cool careers! These committed creatures don't shy away from a hard day's graft and have jobs ranging from the humorous to the heroic.
Larry, Chief Mouser to the Cabinet Office
Larry, the 12-year-old brown and white tabby cat is the current Chief Mouser to the Cabinet Office and resident of 10 Downing Street. The Downing Street government website says his duties include "greeting guests to the house, inspecting security defences and testing antique furniture for napping quality."
Digby, the UK's first Guide Horse
Digby is a two-year-old miniature stallion who is set to become Britain's first guide horse. On completion of a three-year training programme Digby will be moving to London to assist Helena Hird, who is partially sighted and will take on the same responsibilities as a guide dog. Digby has already learned how to push buttons at pelican crossings and wait for the green man, find post boxes and can operate disabled door buttons. With a lifespan of 45 – 50 years guide horses can live much longer than guide dogs and Helena hopes that Digby will be with her for the rest of her life.
HeroRATS, Scent Detection Rats
APOPO (Anti-Persoonsmijnen Ontmijnende Product Ontwikkeling or Anti-Personnel Landmines Detection Product Development in English), a non-profit organisation founded in Belgium, have trained African giant pouched rats as scent detection rats for over twenty years. They are currently used to detect landmines in Angola, Cambodia and Mozambique as the aptly named HeroRATs are too light to detonate the mines and are very quick to find them. This allows contaminated areas to be cleared and returned to locals so the land can be utilised again as soon as possible. HeroRATs are also used in Tanzania, Mozambique and Ethiopia to screen samples for Mycobacterium tuberculosis (TB), an infectious disease which is one of the biggest killers in the world.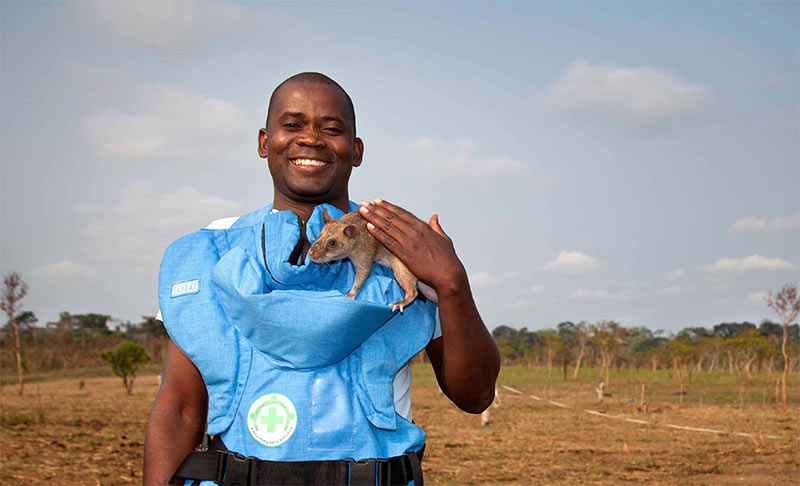 Menswear Dog, The Most Stylish Dog in the World
Bodhi the Shiba Inu is known as The Most Stylish Dog in the World and works as a fashion model. After his discovery in 2013 he amassed a global following and has graced the pages of The New York Times, GQ and Time Magazine. With over three hundred and ninety thousand followers on Instagram it's rumoured he and his owners Yena Kim and David Fung earn up to fifteen thousand dollars a month from modelling gigs working with top brands like Coach, Ted Baker, American Apparel, Revlon and ASOS. Bodhi even has his own clothing line, homeware collection, book and offers bespoke tailoring to ensure other pampered pooches can enjoy haute couture too.
London Meow, The Hospital Therapy Cat
Mr London Meow is a charity worker who spends every other weekend volunteering in London's hospitals as a Pets as Therapy cat. The national organisations' aim is to enhance the health and wellbeing of those in the community by visiting hospitals, hospices, nursing homes, care homes and special needs schools with behaviourally assessed animals. Mr London Meow is particularly good at bringing smiles to the faces of patients, can give kisses on the nose and even offers high fives.
The Police Dogs of Gwent Police
An "invaluable crime-fighting tool", the four-legged officers of Gwent Police force can detect drugs, firearms, money, explosives and more. PD Charlie and PD Wasp share a kennel and have been members of the force since Spring 2018. They are German Shepherds who have been specially selected for their good health, temperament and courage. When not out assisting their humans, PD Charlie enjoys getting muddy and playing with sticks and plastic bottles while PD Wasp loves spending time with his kennel mate and swimming. The police dogs of Gwent Police have their own section on the official Gwent police website along with a Twitter profile dedicated to sharing their working lives.
Fireman Ham, The Fireman Training Pig
Dominic the pig (nicknamed Fireman Ham) is a 14 stone Kunekune pig who specialises in the art of escapology. Dom was taken to a rescue centre after his owner died and soon proved himself to be quite the handful, regularly escaping from his pen. Staff at the rescue centre realised that his mischievous nature could come in handy for firefighters.
Dominic was recruited by Avon Fire and Rescue helping firefighters train how to handle escaped animals in danger. Dominic did this by running away from, or charging at the trainee firemen, teaching them how to deal with the unpredictable behaviour of animals, as well as teaching them methods of capturing scared animals caught up in emergency situations without startling or hurting them. After completing his duties, Dominic is now resting his trotters and enjoying his well-earned retirement at a farm sanctuary.
Animals can do so many incredible things and help us in so many ways. If you have any hardworking animals in your business, we would love to hear from you. Share your stories on our social channels and who knows, they could feature on this list too!