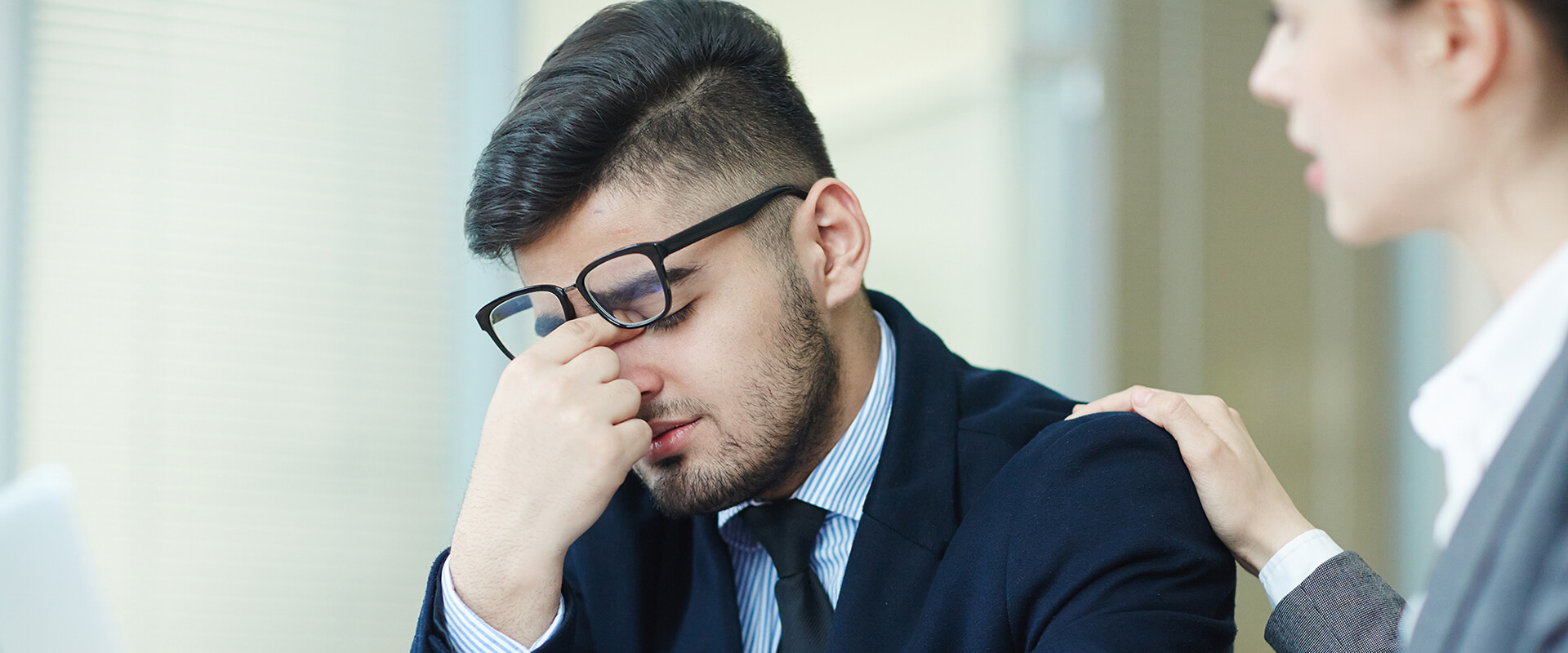 We all have mental health just as we have physical health, and sometimes our health can fluctuate.
Long working hours, overwhelming workloads and problematic relationships with colleagues can all lead to insurmountable stress, which could initiate a serious mental health problem if left unaddressed.
Mental health problems at work is still often considered a 'taboo' subject, which is ridiculous considering how common mental health issues can be. In fact, in four people in the UK will suffer from a mental health problem at some point in their lives.
A mental health condition can not only be destructive for the affected employee, but also for their colleagues and the business as a whole. Poor mental health in the workplace cost UK employers an estimated £45 billion in 2018 due to lost productivity and employee burnout.
A happy workforce is a productive workforce, and employers who spot signs of depression early on could help their employee avert a potentially disabling condition and minimise productivity issues in the workplace.
So, as an employer, how can you spot the signs of depression in your workforce and how can you approach this difficult subject with your employees?
Loss of motivation and decreased productivity
Just like a physical condition, mental health problems can affect motivation and productivity at work. Someone with depression may have difficulty concentrating at work or motivating themselves to complete their tasks. You may have noticed that your employee struggles to start or finish tasks or is taking a lot longer to produce their work. If your usually driven employee is suddenly showing less enthusiasm for their work, it could be that a mental health problem is playing a factor.
Withdrawal from colleagues
Withdrawing from friends or colleagues may be a sign that your employee is suffering with depression. Have they lost interest in activities and tasks they previously enjoyed? Are they isolating themselves and avoiding social events after work with colleagues? It's fine if your employee likes to keep themselves to themselves, but if this behaviour is not typical of them, there could be an underlying problem.
Changes in behaviour
A sudden change in an employee's behaviour may indicate that they are going through a tough time, perhaps a mental health issue is affecting their behaviour. Depression can cause changes in a person's social conduct and cause them to behave in a way that contradicts their usual character. Those usually passive in nature could become aggressive and outspoken, or a usually confident member of staff could become reserved and distant.
Absenteeism
The Labour Force Survey found that stress, depression or anxiety accounted for 54% of all working days lost due to ill health in 2018/19.
While absence is an obvious sign of a health problem, it is rare for an employee to call in sick and mention a mental health problem as the reason for their absence. Depression can lead to regular short-term absences as the depressed individual struggles to cope with the stress of work and daily life.
Poor punctuality
Poor punctuality may be a sign that your member of staff is struggling with depression. As a depressed person struggles to motivate themselves to focus on planning and carrying out daily tasks such as getting ready for work, you may have noticed your employee coming into work later or perhaps leaving the office earlier.
How can you approach the subject of mental health?
If you suspect an employee is suffering from depression, the best thing to do is take the lead and arrange a meeting as soon as possible to discuss the matter in private. Knowing how to best approach and talk to a team member who may be experiencing mental ill health may seem a little daunting, but a little bit of empathy can go a long way. Be supportive and encourage your employee to speak openly about their struggles without fear of reprisal.
Of course, a team member may not want to talk about issues they are going through. You may find it best to try not rush them or pressure them to talk. Instead, reassure your employee that you are available at any time, to talk about anything, once they are ready.
Offering support
Once you have identified that your employee is suffering with a mental health problem, it's time to offer some support, but what should this support look like?
According to mental health charity, Mind, adjustments for mental health are generally simple, practical and cost-effective. Below are some ways you can support your employee through a tough time:
Allow your employee to work flexibly, if possible, with relaxed start/finish times.
Consider changing their workspace environment – e.g. quieter, more/less busy, dividing screens.
Allow your employee to work from home if they can (although it's important to have regular phone catch ups so they remain connected and don't feel isolated).
Be flexible with break times, maybe shorter regular breaks may be more suitable than one long break for lunch.
Provide your employee with a quiet room or space where they can gather their thoughts when things get too much.
Offer your employee a light-box or seat with more natural light if they suffer with seasonal depression.
If your employee needs to take time off due to their condition, try to phase their return back to work with reduced hours gradually building up.
Relax absence rules and limits if your employee is absent due to disability-related sickness.
Agree to give your employee leave at short notice and time off for appointments related to their mental health, such as therapy and counselling.
Sometimes, your employee may be so unwell that they need some time off work to recover. Throughout their absence, check in regularly with your employee and ask them how they are doing. Stress the importance of taking ample time to recuperate and don't make them feel they need to rush back to work.
For more advice on dealing with mental health related absence, have a read of this comprehensive guide on supporting staff who are experiencing a mental health problem written by Mind.