Imagine walking into a typical office, what do you see? Fluorescent tube lighting, dull grey carpets and boring vertical blinds? This unremarkable picture is the office décor most of us have grown used to: functional but boring.
Thankfully, many companies are beginning to understand the importance of enjoying the space in which we spend our 9 to 5 and are creating some really cool workspaces.
Here's our pick of the top 5 cool office ideas from around the world.
Warning: You're about to have some serious workplace envy…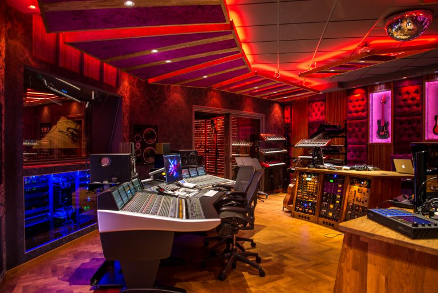 Spotify's Stockholm office in Sweden. Photograph: Spotify
Spotify – Stockholm, Sweden
Located in ultra-cool Stockholm, Spotify HQ blends Scandinavian simplicity with luxurious furnishings, natural hues and lush plants aplenty. Designed with their people in mind, there's an entire floor dedicated to fun, with craft rooms, arcade games and naturally, a karaoke room.
Rumour has it that each new Spotify employee or 'Spotifier' must belt out a tune on the mic as a slightly embarrassing initiation ritual! For serious songwriters and musicians, there's an in-house music studio, complete with drum kits, grand pianos, guitars and basses.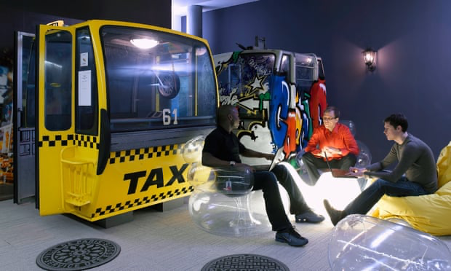 Google's Zurich office in Switzerland. Photograph: Google
Google – Zurich, Switzerland
You didn't think we'd compile a list of cool places to work without mentioning Google, did you? The tech giant's Swiss headquarters in Zurich is really quite incredible!
There are firefighter's poles and spiral slides between floors, cable cars and baths of foam cubes that you can nap in! If that wasn't enough, the 'Zooglers' have table tennis and pinball, a band rehearsal room, a cinema, a gym and a Lego room. The list of cool stuff goes on and on…
Not only is the office cool, the location is perfect. Just a short stroll away from Lake Zurich, you can spend your lunch hour immersed in Swiss nature. Then once the clock strikes 5pm, head to the 'Hurlimann Bar' to round off the day with a beer or two!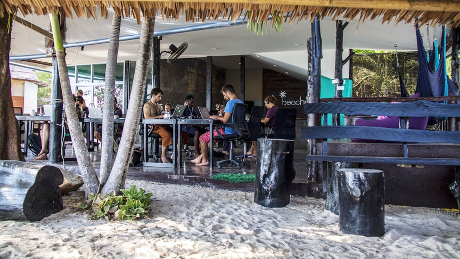 BeacHub's Ko Phangan office in Thailand. Photograph: Coliving
BeacHub – Ko Phangan, Thailand
Imagine living and working on a paradise island in tropical Thailand. Well you can with the world's first beachfront co-working and co-living space! Located on the idyllic island of Ko Phangan, BeacHub offers a haven for digital nomads looking to work hard and play even harder.
The office space comes complete with beachfront desks, private meeting rooms and an onsite kitchen where you can sip on smoothies while gazing at the sun-soaked shore outside. Round off the working day by blowing off some steam at one of the exclusive social events held on the 120-metre private beach, then head back to your beachfront bungalow for some much-needed sleep while listening to the sounds of the waves crashing on the shore.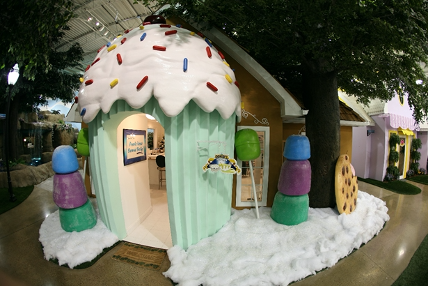 Inventionland's Pennsylvania office in the USA. Photograph: Inventionland
Inventionland - Pennsylvania, USA
Inventionland is America's largest invention factory where designers, artists, writers and other creative types can work in 16 unique themed sets where they can bring their inventions to life.
Employees can choose to work in a shipwrecked pirate ship, a treehouse, a giant shoe, a cupcake kitchen and even a castle complete with fairy-tale turrets and a drawbridge.
The inspiring setting includes three running waterfalls, life-like trees and butterflies. In the rear of Inventionland is a red carpet that leads to a state-of-the art audio, video, and animation studio complete with sound room and green screen.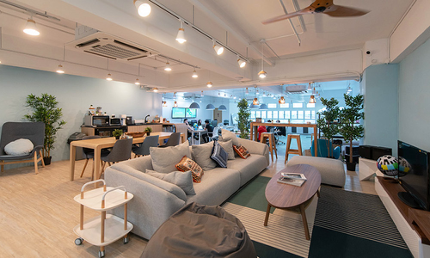 Sourcibo's Kowloon office in Hong Kong. Photograph: Sourcibo
Sourcibo – Kowloon, Hong Kong
You're the last one to leave the office and you just want to get home after a long day. But first, you have to go around and turn all the lights off and switch off the AC. It's a pain.
Well, if you work at Sourcibo, you don't need to do that! With their voice assistant controlled office, employees can ask the office to turn everything off with one single command. Welcome to the 21st Century!
Based in Hong-Kong, Sourcibo is a Business to Business platform allowing businesses around the world to connect with their potential clients. Their HQ is not only packed to the rafters with cool tech, the office is teeming with fun facilities. There's a fully stocked pantry complete with fresh fruit (because we all need to get our five-a-day!), snacks and drinks, as well as comfy breakout spaces with TVs and video games.
Looking for inspiration closer to home? Our top 10 cool office ideas in the UK blog has everything from recording studios to open-air cinemas and is sure to give you some more fantastic ideas.
Last updated 20th Jan 2020