It's the stuff of dreams for those of us slogging in dull, insipid offices for 8 hours a day. Gone are grey walls, vertical blinds and carpet tiles, these companies really know how to design a cool working environment. Here's a list of our favourite wacky and wonderful workplaces in the UK.
Which of these cool office ideas is your favourite?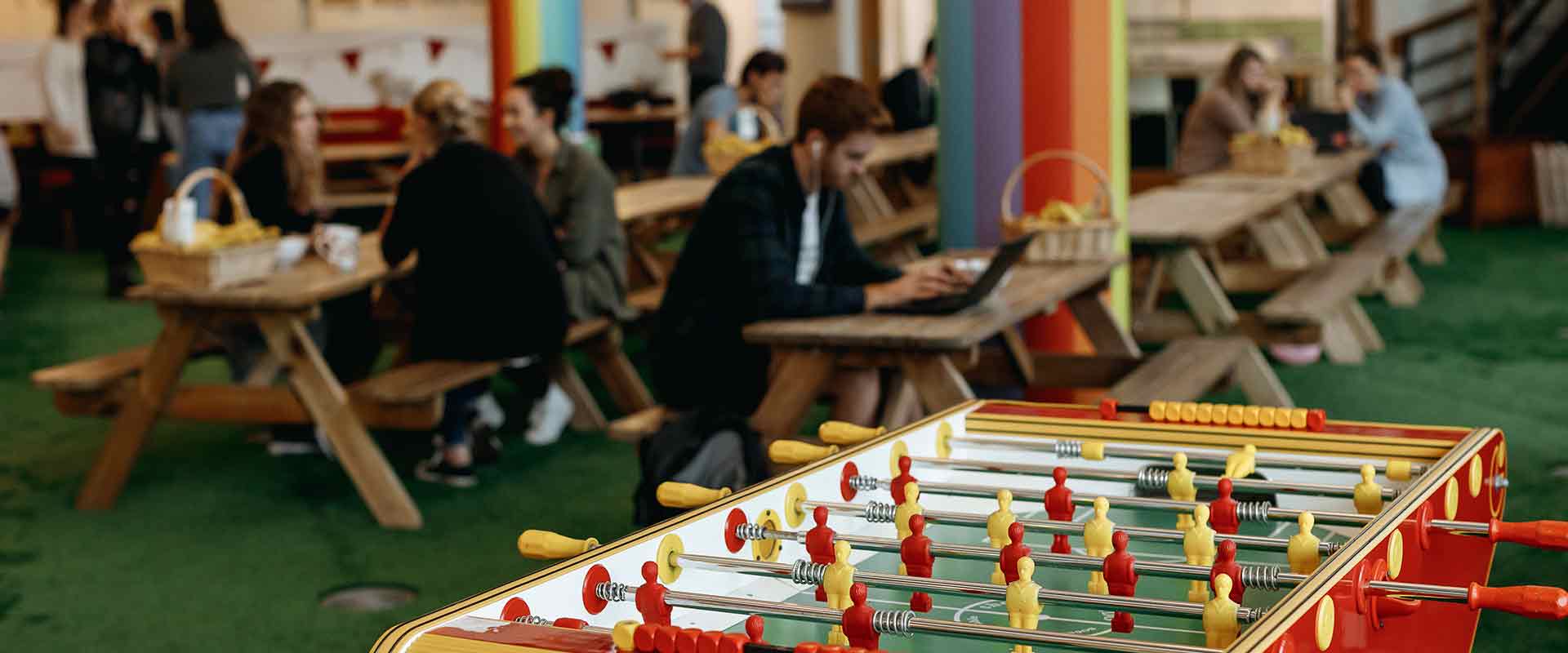 Image credit: Innocent Drinks
Innocent Drinks
Where? London
What? A quirky company known for its fruit juices and smoothies
What Makes It So Cool? With picnic benches, bunting and AstroTurf floors, you'd be forgiven for thinking you'd come to a village fair in the Cotswolds, not an office in central London. Furthermore, employees in the affectionately known 'Fruit Towers' get free breakfast and an unlimited supply of smoothies every day. What's not to like?!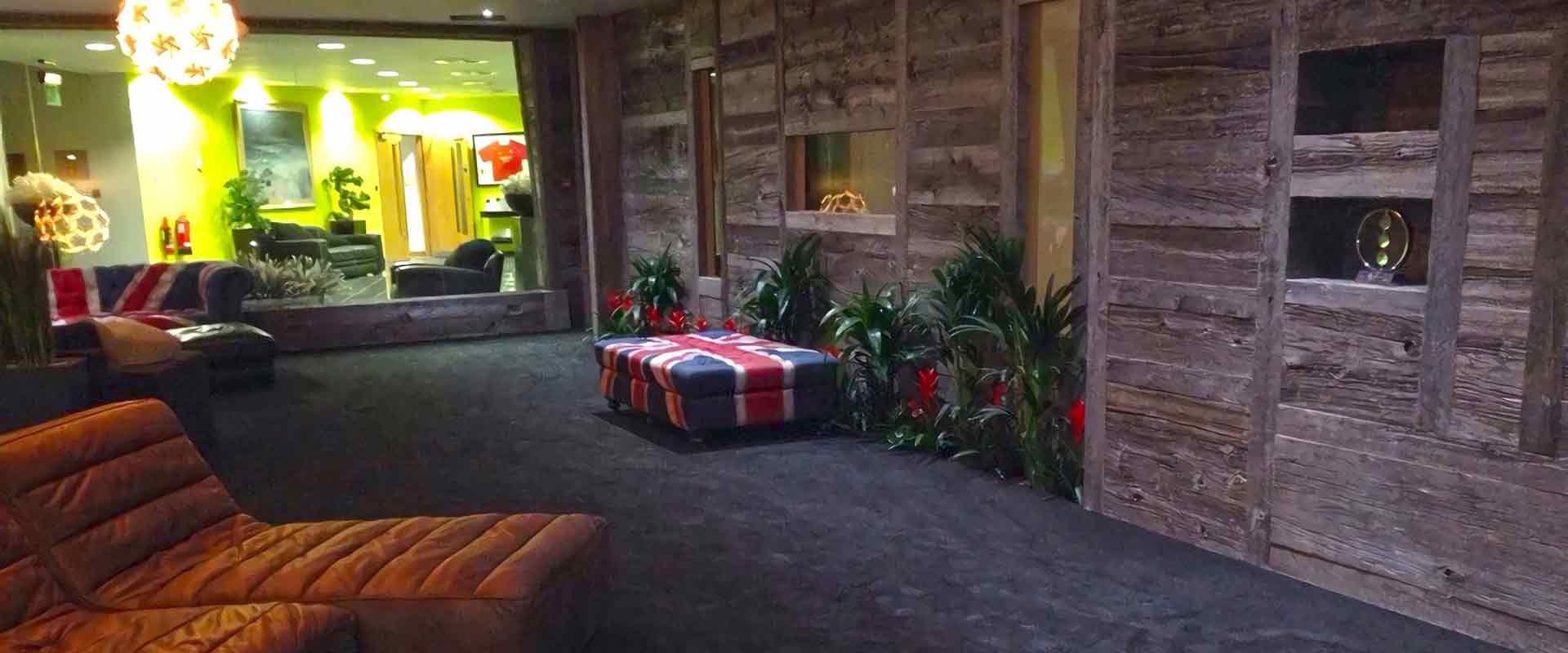 Image credit: UKFast
UKFast
Where? Manchester
What? A privately-owned hosting provider
What Makes It So Cool? Named the best workplace in Manchester and the fifth best in the UK in 2017, this trendy workplace boasts a steam room, crèche and dedicated training and education space. A giant chess table greets you as you enter the office, and staff can take advantage of a fully equipped recording studio, bar and onsite gym.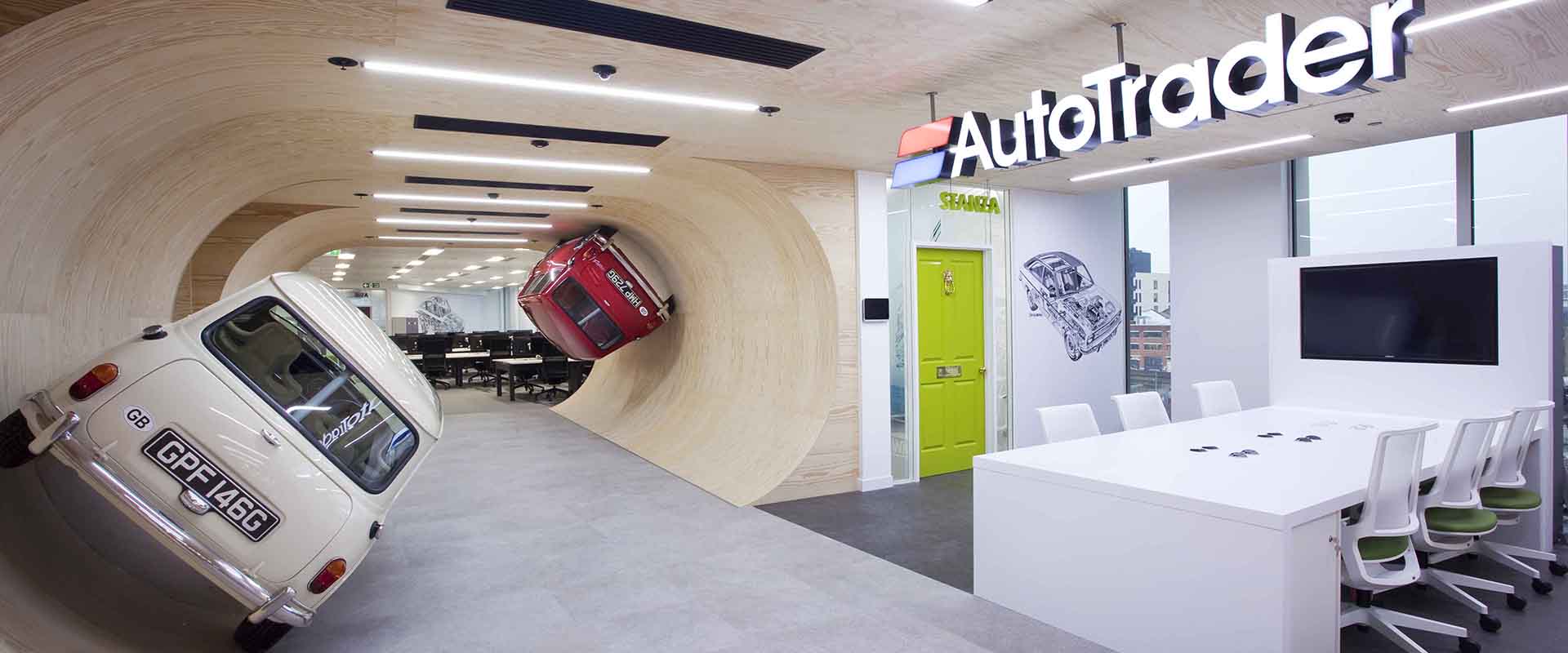 Image credit: Andy Livesey
Auto Trader
Where? Manchester
What? A digital marketplace specialising in buying and selling new and used cars
What Makes It So Cool? Full of actual vehicles including camper vans and vintage jaguars, Auto Trader's Manchester office really is a car-lover's paradise. Packed with pool tables, ski-lodge inspired chill out zones and a skateboarding full-pipe, it's not a bad place to spend your 9-5.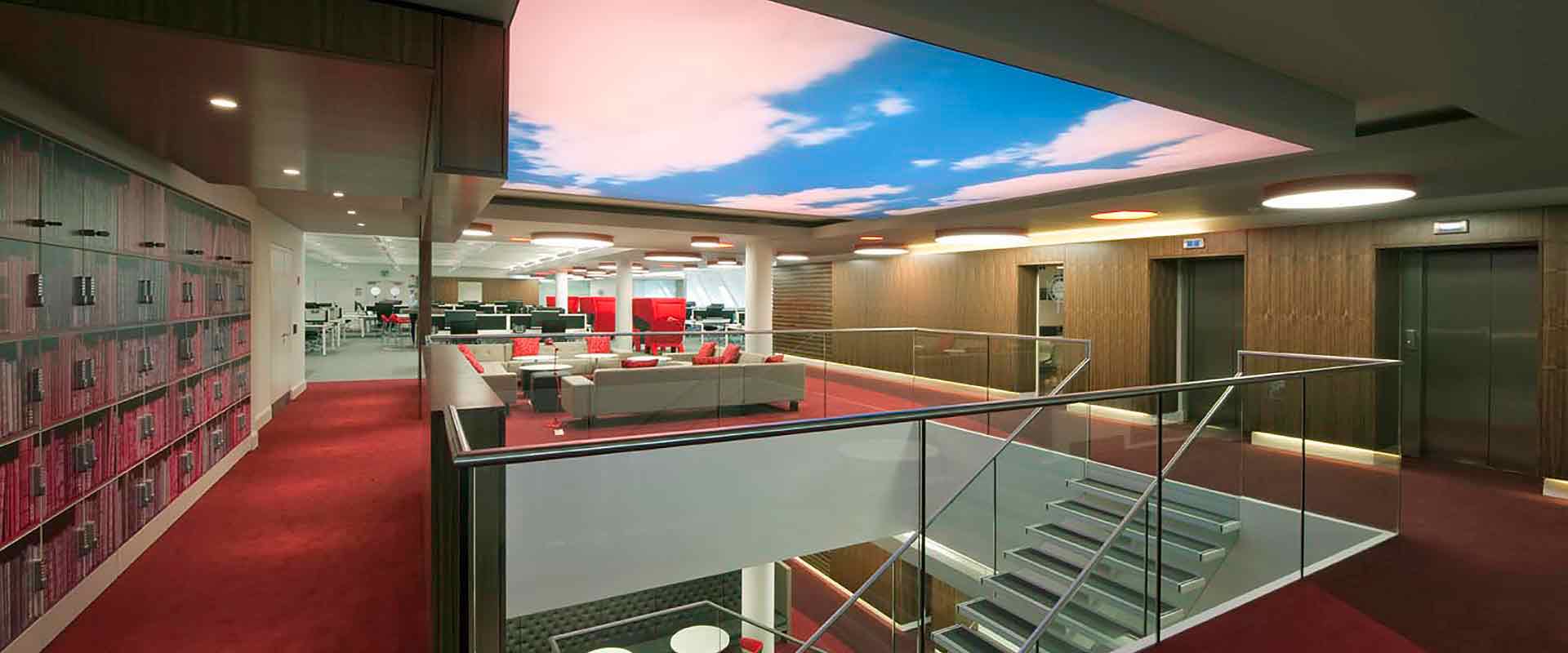 Image credit: Virgin Money
Virgin Money
Where? Edinburgh
What? A UK based bank and financial services company
What Makes It So Cool? The eye catching indoor sky provides a welcome distraction from the typical Edinburgh weather and is thought to encourage creative thoughts amongst employees. The open plan design allows for interaction between departments, and numerous chill out zones provide the perfect place to meet and gather ideas.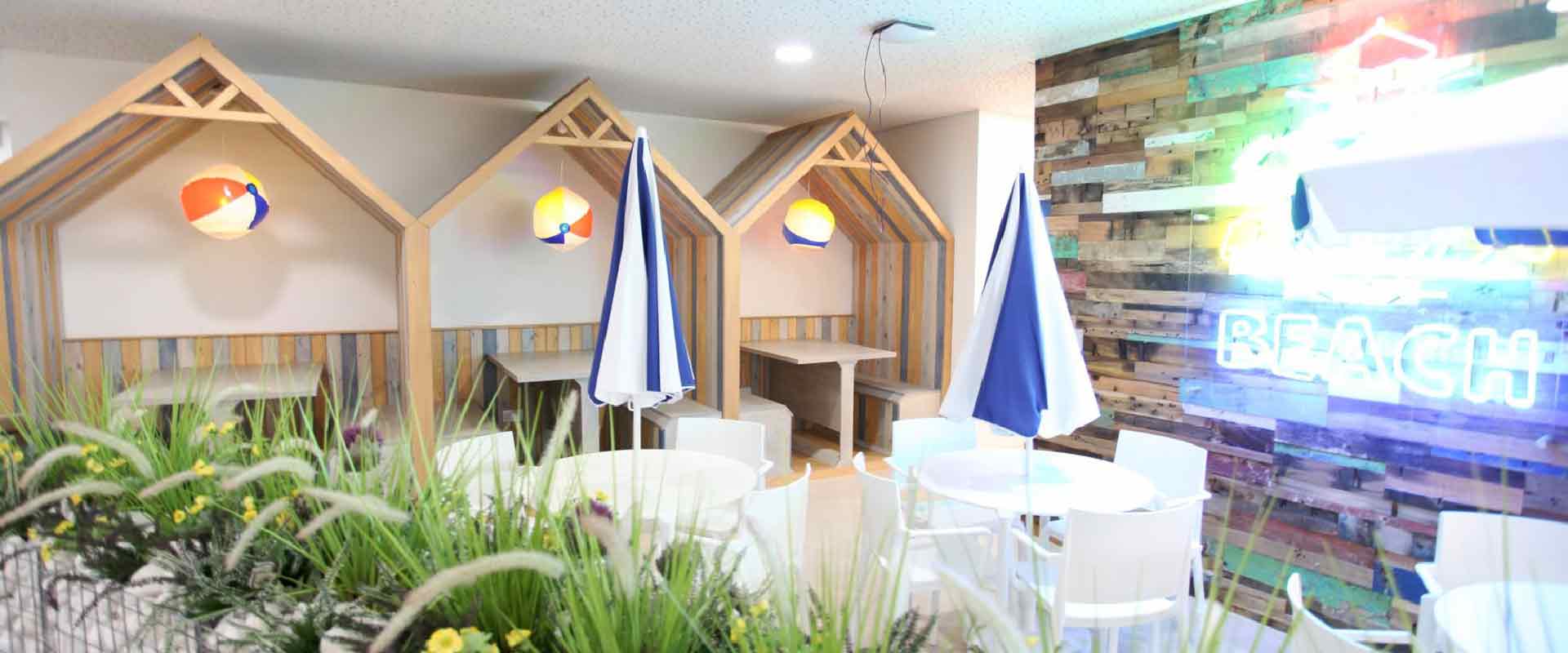 Image credit: Manchester Evening News
Rentalcars.com
Where? Manchester
What? An online broker specialising in car rentals
What Makes It So Cool? Featuring an indoor park, a rooftop beach and an open-air cinema, this just may be the coolest office on our list. Staff are treated to free breakfasts, an on-site Starbuck's and with a complimentary all-day salad bar, there's really no excuse for not getting your 5-a-day.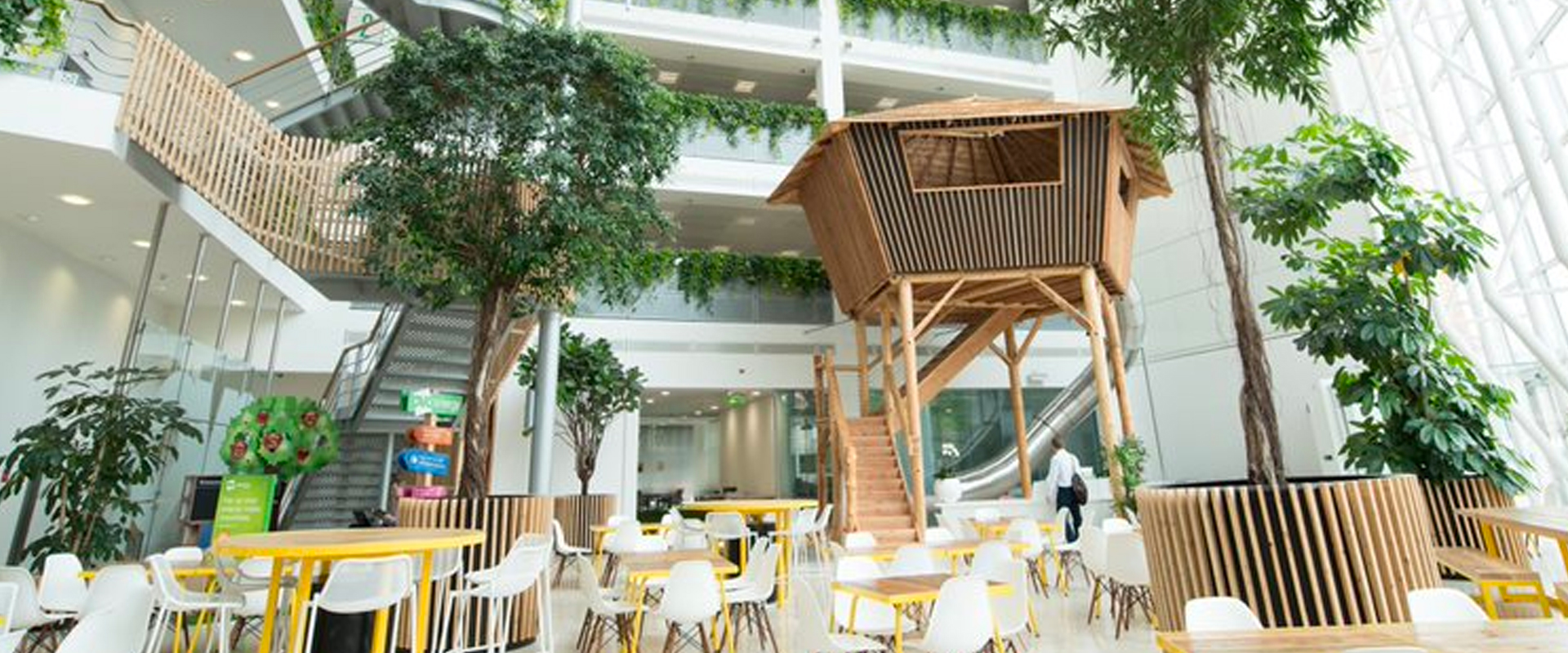 Image credit: Plant Care
Ovo Energy
Where? Bristol
What? A UK energy supply company
What Makes It So Cool? A 'living jungle' with 6 trees ranging in size from 2.5 to 8 meters, 500 balcony troughs with hanging plants and 100 floor standing displays, the Ovo Energy offices have seen CEO Stephen Fitzpatrick's vision for a tropical oasis in the city come to life.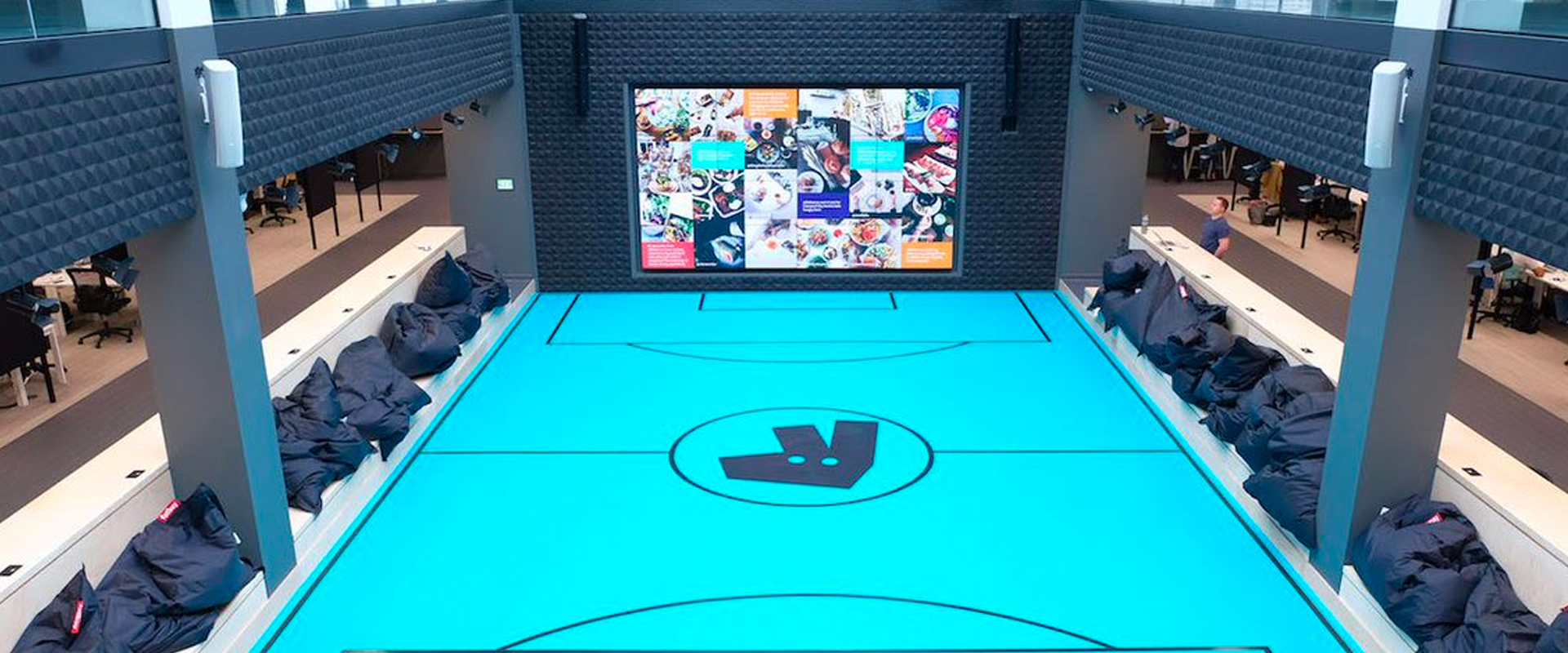 Image credit: Business Insider
Deliveroo
Where? London
What? An online food delivery company
What Makes It So Cool? 27 meeting rooms named after the company's favourite foods for example 'Taco', swanky phone booths for important conversations, a pool table, swing chairs suspended around a meeting table and a giant communal space that looks like a Basketball centre court.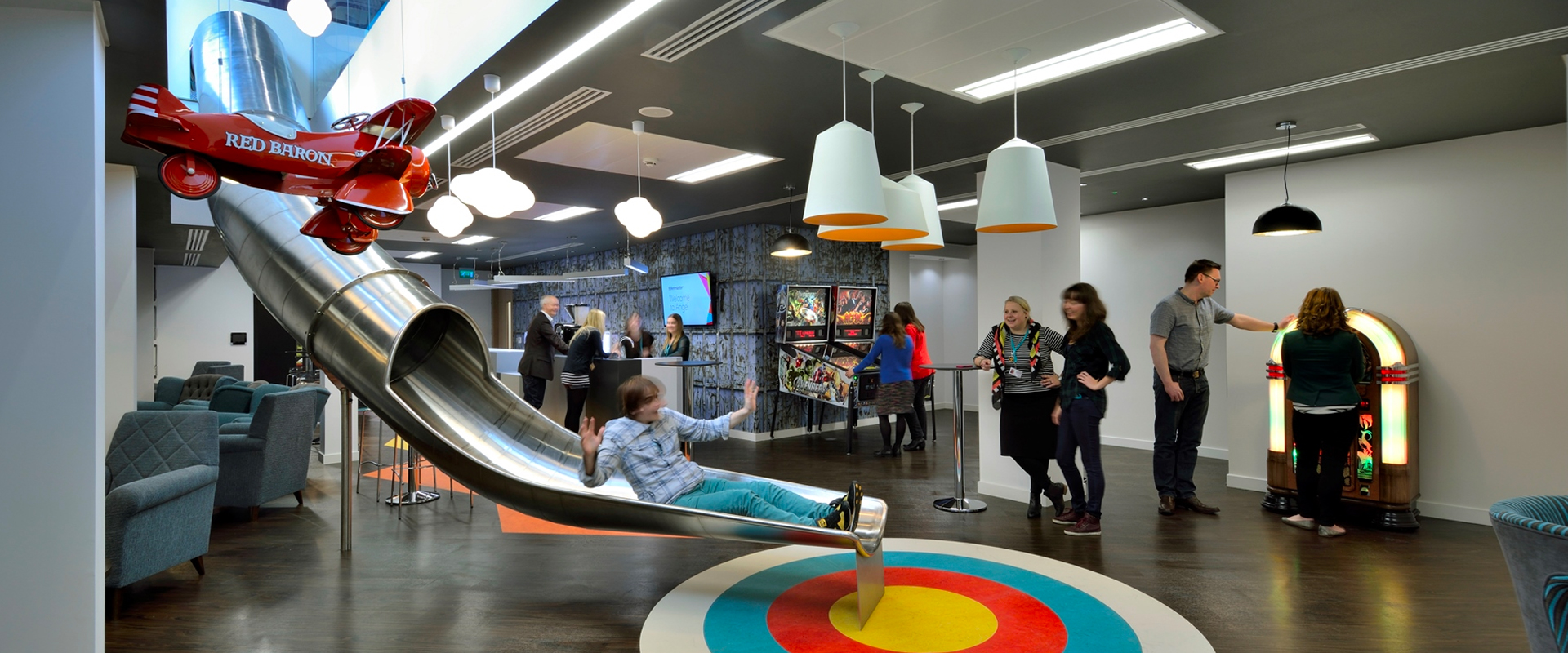 Image credit: Ticketmaster
Ticketmaster
Where? London
What? An online ticket sales and distribution company based in the US
What Makes It So Cool? Created to boost creativity and encourage employees to socialise, have fun and enjoy themselves, Ticketmaster's overseas head office in London has a metal slide at its heart. Designed to take employees into the bar area, the slide is a playful way to make an entrance. Once there, staff can choose to play a game of table football or pinball while listening to their favourite tunes on the company juke box.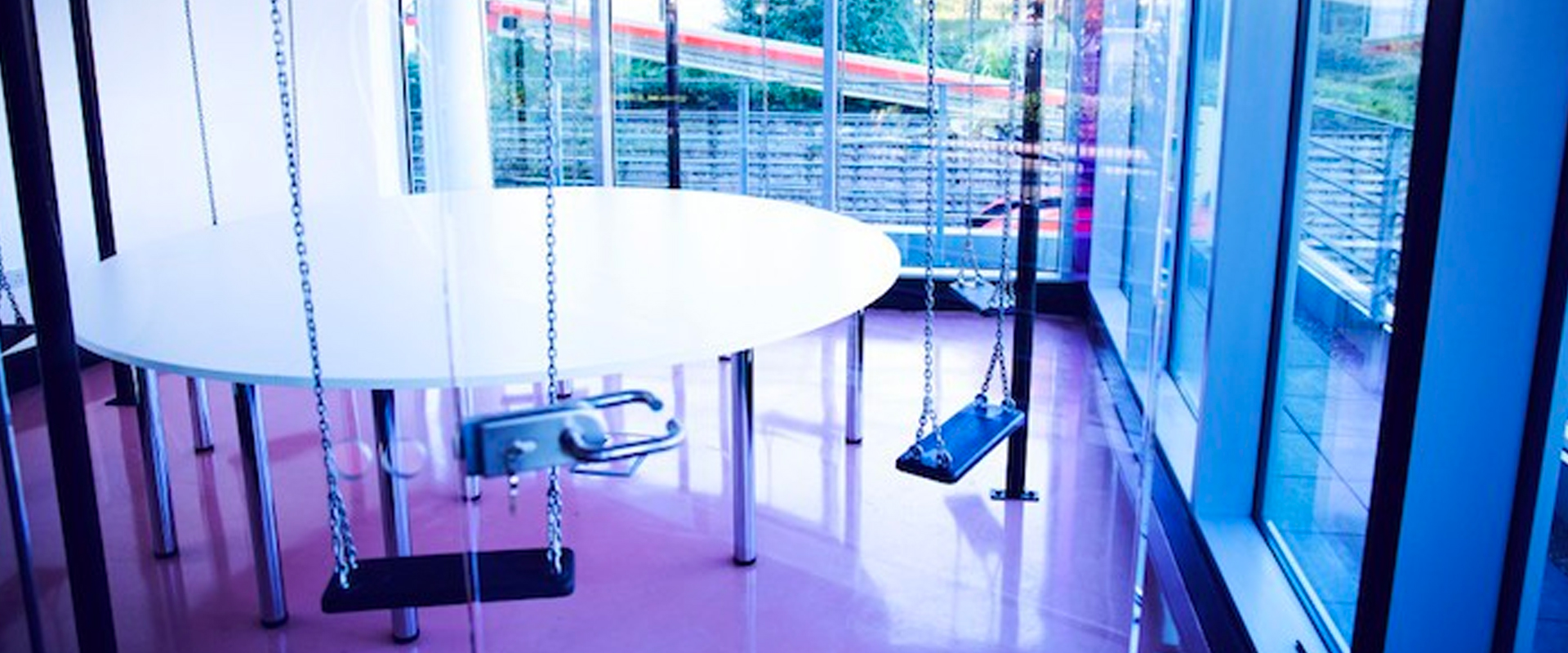 Image credit: Missguided
Missguided
Where? Manchester
What? A multi-channel clothing retailer aimed at women aged 16-35
What Makes It So Cool? Cosmopolitan magazine called Missguided HQ "the coolest offices of all time ever", which might have something to do with the selfie light tunnel that encourages staff to #takemoreselfies, the 'floating' meeting rooms with 60s inspired bubble chairs, the retro arcade games, the ping pong and pool tables, the classic childhood swings or the myriads of painfully cool motivation quotes.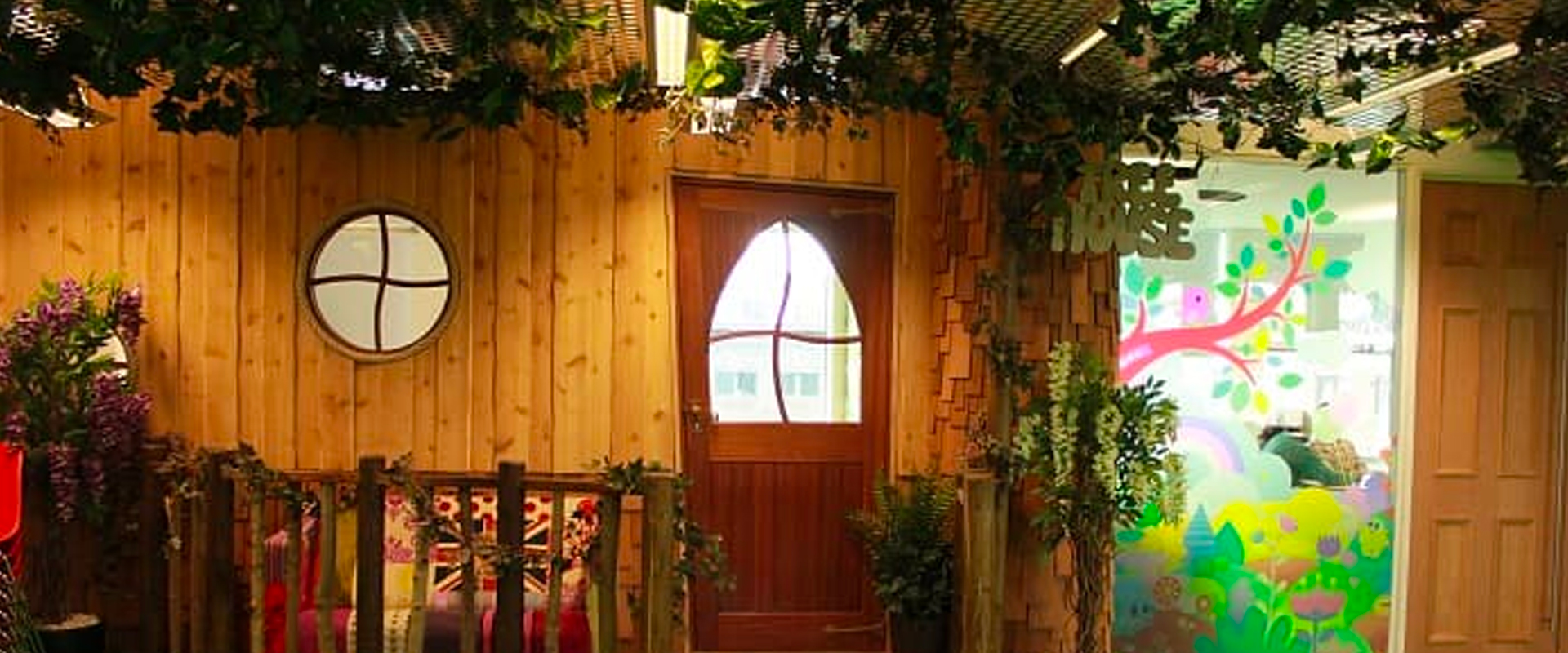 Image credit: Startups.co.uk
Mind Candy
Where? London
What? The British video game developers and creators of Moshi Monsters
What Makes It So Cool? As the headquarters of the company behind the much-loved children's brand Moshi Monsters, it's no surprise Mind Candy's offices are vibrant and exciting. Staff can relax on 'Glump' beanbags featuring the faces of evil characters from the Moshi Monsters game, stretch their legs on the artificial grass, or colour in Moshi Monsters on a wall covered in black and white illustrations. Guests are welcomed into the Mind Candy world with a reception area inspired by a treehouse with leaves hanging from the ceiling and a retro sweet dispenser to help top up sugar levels.
If our list of cool UK offices has whetted your appetite check out our article on cool office ideas from around the world. You'll find some unique features like firefighter's poles and cable cars alongside simple additions like well stocked pantries and comfy breakout spaces.